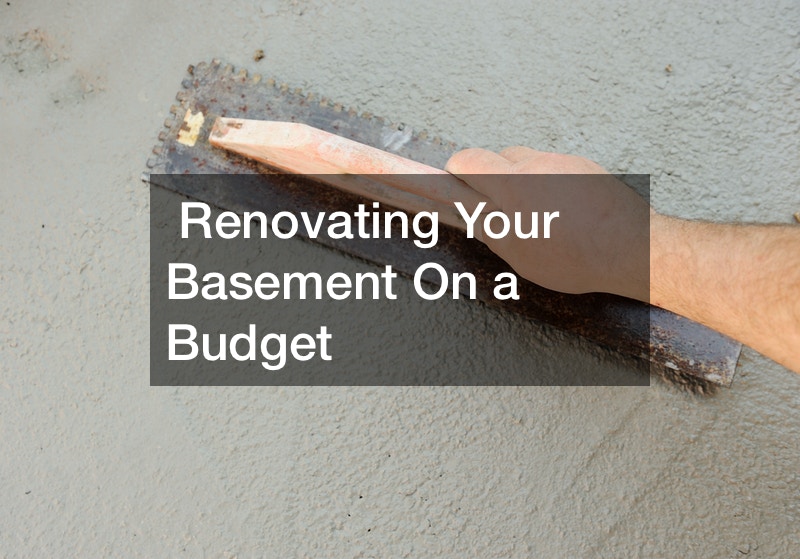 Your home has different rooms and parts that play significant roles in varying ways. The basement is not an exception. That is why you need to ensure that this part of your home is in the best condition possible at all times by embracing regular maintenance and renovations. However, if you do wrong, basement remodeling can cost substantial amounts of time and money. As such, it would be wise to follow the tips explained in this article on how to renovate the basement on a budget.
The Tip For A Budget Basement Renovation
Handle One Area Of The Basement At A Time
Taking on multiple basement remodeling projects can be tricky, considering that you cannot DIY all of them. That means you will need at least a few experts to help you with some tasks. That is one sure way of saying that you will be spending vast amounts of money. A budget directs you to how much money you have available for whatever remodeling you want to conduct. Using all your money to finish up the basement in its entirety is not recommendable. The best approach is to work on one area, which allows you even to incorporate some fun features at a cheaper cost.
You may think of including a wet bar or adding a TV in the basement, which can completely transform the room and boost your home's resale value. You could even think of changing the lighting fixtures to give the basement a warm feeling. However, you must ensure you consult a qualified residential electrician, especially if you have little or no knowledge of what should be done. Luckily, there is a wide variety of such experts, and you can choose the best electrician from that long list.
Work With Professionals In Different Projects
Professionals need to be paid for their services. So, you must be wondering how that falls under the class of remodeling your basement on a budget. There are, of course, some simple basement remodeling projects you can take on yourself. This may include cleaning the room, dusting the walls and ceiling, and bringing in new furniture. Nonetheless, there are those tasks that are better done by someone experienced in such jobs. Flooring can be a tricky task, and it can cost you a lot if done wrong. That is why it is essential to consider flooring services from a contractor who understands how to handle these tasks better. Most of these contractors are knowledgeable about different types of floors. Therefore, you can get a flooring service regardless of the type of floor in your basement.
Besides doing a great job, professionals can also help you save money because of materials. Over the years, these contractors have created connections with suppliers, manufacturers, and retailers. Therefore, the chance of them getting a discount on concrete flooring supplies and other necessary materials is pretty high. Finally, good work and using quality materials minimizes the chances of regular basement renovations, consequently saving you money down the road.
Think Of A Coat Of Paint
Nothing says transformation better than adding a coat of paint to a basement. Most homeowners have taken up this project. So, there is no reason for you to be left behind with a basement with worn-out walls. The good news is that some of the paints available on today's market are pretty cheap, which can save you a few dollars. One of the contributing factors to such low prices is that you will probably be buying more than one can of paint. This increases the chances of getting a reasonable discount. The icing on the cake is that you do not have to pay someone to paint the basement unless you do not have time to do it.
Adding a new coat of paint is a DIY task you can take on and save the money you would have paid someone to do it. However, if perfection is what you are looking for, some cheap but professional painters are out there who can help you with the job. You can even get someone from a basement remodeling company to handle the painting job. Moisture-resistant paint would be a great choice, especially if you have an issue with dampness in your basement. On the flip side, since you are renovating the room on a budget, you should consider painting instead of investing in drywall. On that note, you will have to buy a dehumidifier if you do not have one already in the basement. Some of these appliances available on the market are pretty energy-efficient. It would be wise to procure residential electrical services to have the device installed.
Take Your Time
When remodeling your basement, being in a rush can land you in trouble and ultimately cost you a pretty penny. Therefore, one of the best ways is to take your time to weigh your options. That means you have to conduct detailed research to ensure you precisely understand what you want. Take a walkout in the market to identify some of the best and less-expensive options available, for instance, if you're going to change the basement lighting. It would also be appropriate to vet different contractors before you decide to hire any of them. All these activities do not have to be expensive because the internet has got you covered. You can do the vetting and check out the market from the comfort of your home.
Today, the internet is flooded with online shops displaying different items you may require for your basement renovation. Besides the shops, most experts who deal with home improvement projects have created a stable online presence through their websites and social media handles-as such, getting them is a piece of cake. If you want anything, including concrete repair services, you will find a long list of experts who offer such things. Remember, do not just rush and pick anyone from the internet. You need to make some considerations to ensure you are hiring the best guy for the job.
Recycle and Reuse
You are conducting a makeover, not building from scratch. Therefore, it is crucial to consider salvaging some of the existing materials that are not in bad shape and recycling them in the basement remodeling projects. This is one of the best tips if you want to improve the room on a budget. Recycling and reusing will save you a pretty good amount because you do not have to buy new materials. Additionally, you will avoid other expenses associated with purchasing additional materials. The main costs that you will prevent include transportation and dumping of the removed materials. Recycling and reusing are also good for the environment, and that is why you are encouraged to embrace them. The basement is one of the rooms that is not used regularly. As such, you do not have to buy expensive materials for the renovations. Sometimes, you may be required to purchase different materials, especially where there are no recyclable items. In such a case, it would be wise to consider purchasing the required items from a junkyard and other dealers who handle recyclable materials. That can save you a lot, considering that most of these business people can be found locally. You do not have to travel long distances, consequently cutting down on transportation expenses in an unbelievable way.
Benefits of Remodeling Your Basement
Boosted Home's Resale Value
If you plan on selling your residential property someday, you should understand how essential it is to make the necessary improvements. The basement is among the first places that prospective buyers want to see in your home. If it is in bad shape, it will turn off the best buyers. On the other hand, renovating and remodeling this room means that you will enjoy a more substantial return on investment. Professionals in the real estate industry say that you can expect a 70% standard return on your investment if you renovate your basement. The local market is one of the significant factors that affect a property's value. Therefore, you can now understand how basement improvements and renovations can boost your home's value.
If you do not plan to sell the property, there is also the thought of renovating and renting the room out to enjoy some extra monthly income. The only thing that should stick in your mind is being careful about the renter, considering that they will live in your home. It is essential to conduct a background check to ensure you can trust the person. Next, you should be clear about your plans to the contractor and pay close attention to their professional comments and recommendations.
Increased Space
Living in a crowded place can be cumbersome for your family. As such, if you feel congested in your home yet you have a basement, it is time to think about making it an extra bedroom or something else. There is a wide variety of ways in which you can utilize your basement. You may even consider making it the storage room to declutter your living space. You can also reuse the basement by making it your home office, gym, or home bar. Whatever choice you make, you will be mesmerized by how much your residence will be decongested. Do not be like some homeowners who forget about the basement, which gets dusty and infested by different insects. Remodel the room and put it to good use.
It Saves You Money
The basement is not like your living room, considering that it is one of the parts of your home that are not used much. Therefore, although you are giving it a new look, you do not have to use very high-quality materials. So, renovations save you money that you can put into other crucial things. You can renovate the room with quality materials only, and it will work just fine. This means that you may avoid buying new materials and still get quality materials for your basement from a junkyard. The materials sold in such places are not as expensive as those you purchase from the shops. Besides the materials, you can hire a medium contractor who will charge you much less than the highly decorated home improvement professionals. That is why it is said that remodeling your basement can save you money.
Enhanced Home Energy-Efficiency
There is an apparent reason why you need to make all parts of your home as energy-efficient as possible. The reason is that you will save some substantial amounts on your utility bills. Most basements are pretty old, which means the lighting fixtures and appliances in the room may be outdated. You can attest that energy bills are the major contributor to high utility bills in so many homes worldwide. If you have old appliances installed in your basement, renovations allow you to get rid of them. The good part is that the market is filled with great energy-efficient appliances and lighting fixtures that you can buy and see a drop in your energy bills. Besides getting the appliances and fixtures that save energy, renovating the business allows contractors to install drywall, insulation, and other things designed to ensure your home is well-ventilated. Such insulation plays a pivotal role in ensuring that no cold or hot air seeps into your home from the basement during winter and summer. The consequence of this is that your heating and cooling system will not have a rough time keeping your abode warm during the cold season and cool during the hot months. Finishing your basement comes in handy if you realize you have high energy bills and when you want to reduce your home's carbon footprint. It is advisable to consider contracting an electrical company or even a residential electrician to ensure the job is done as required.
A well-done basement has several benefits, including enhancing the curb appeal of your home. Nonetheless, renovating this room can be challenging and costly if you do not have the tips to do so on a budget. That is why sticking to the points explained about refurbishing your basement on a budget is critical. Several homeowners have done it the wrong way and ended up with regrets and wishes. It would be unfortunate for you to fall under that category.