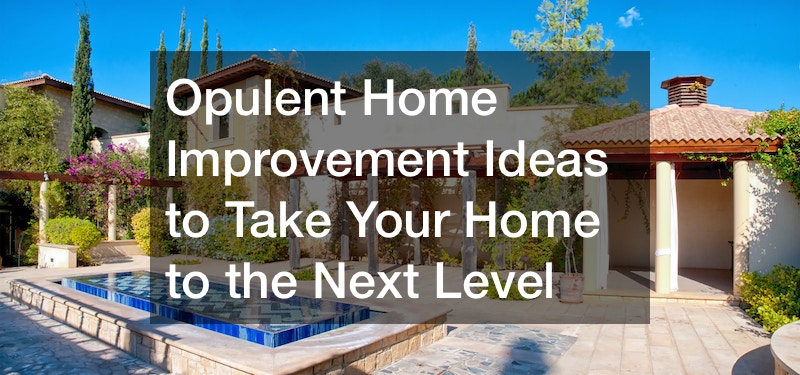 Flipping through an issue of House Beautiful or Better Homes & Gardens, you pass pages and pages of opulent homes. These lovely houses usually consist of thousands of square feet, but you don't have to own a home with vast square footage to own an opulent home. Instead, you only need to renovate or remodel your existing home.

Creating Opulence in Any Size of Space
Opulence comes from the materials used and their treatments, such as weatherproofing and water sealants applied to wood, especially exotic wood, to make them last longer. Take a quick look at Airbnb to see plenty of examples of opulent luxury tiny houses and tiny cabins. The home's design and its materials, such as countertops and flooring, plus indoor and outdoor built-in areas create the luxurious look and feel that define opulent homes.
Creating these expensive-looking home interiors and exteriors doesn't have to cost much, either. Target specific areas of the home that create a lavish appearance, such as counters and cabinetry. Generate curb appeal from all directions with landscaping, hardscapes, and recreational areas like swimming pools and Jacuzzis. Let's look at the top areas of a home to target.
Timeless Counters
Start with the countertops in your home to create the appearance that opulent homes embody. Counters in the foyer, kitchen, and bathrooms define the impression people have of the home. Choose materials, such as granite, marble, quartz, and decorated cement, that offer an elegant look while also providing long-lasting utility.
Using a material like a quartz countertop that comes with variations and inherent designs from the mineral's development creates visual interest. When using decorated cement, you add glass pieces, marbles, pebbles, or seashells to the wet cement to create a variation on the countertop. When properly finished, butcher block counters can also create opulence in a kitchen.
High-Quality Craftsmanship
Another aspect of opulent homes comes from the high-quality craftmanship used in their design and building. To obtain this type of craftsmanship, hire custom kitchen cabinet companies to design new cabinets for you, or to customize your existing cabinets with carvings or embossing.
Refinishing existing cabinets offers a more affordable way to get the look of custom craftsmanship without the price. Use a paint stripper to remove the paint or varnish now on your cabinets. Repair any cracks with epoxy and wood flour, then repaint them, or revarnish them. Add new drawer and cabinet pulls to finish.
In a roomy kitchen, add an island for food preparation or in-room dining. Islands also provide added storage space underneath their counter space. Some kitchen islands include a sink, which makes it easier for more than one person to use the kitchen for meal preparation.
Outdoor Lounging
Interview deck building companies to find the right one to add outdoor living space to your home. Most opulent homes feature a multi-tiered deck, and some include an outdoor kitchen. A deck-building professional can design a custom deck or porch for your home. You might want a gazebo, portico, or patio instead. They design those, too.
All opulent homes provide a well-organized outdoor entertaining area with a dining area, areas devoted to intimate conversations, and a recreational area. The outdoor dining area typically abuts the outdoor kitchen, which usually features a grill, oven, stovetop, and sink. These outdoor recreation areas sometimes include a swimming pool, hot tub, or Jacuzzi.
Luxurious Relaxation
That takes us to hot tubs, Jacuzzis, and swimming pools, one of the true marks of opulent homes. These water recreation areas offer a respite from the heat and sweaty weather. They're also ideal for lounging and summer entertainment.
If your home lacks the yard space for a swimming pool, add a lavish look to the backyard with a hot tub or Jacuzzi. These small, round water-soaking areas offer a small yard a big payoff on curb appeal. They also provide an ideal recreation area for parties.
For true opulence, avoid the do-it-yourselfer kits and hire a professional to install your hot tub or Jacuzzi. These professionals obtain certifications in plumbing and electrical, something required in most cities and towns. You'll need to obtain a permit before installing this or another type of in-ground water area in your home.
Dive Into Opulence
Most swimming pool companies offer the installation of small in-ground water areas and swimming pools. To find one that installs the type of design you want for your own home, cruise the local neighborhoods that feature opulent homes. Installers usually obtain permission to place a small sign in the front yard advertising their business and stating what they installed in the home.
Flawless Flooring
In every lavish, elegant home, you notice the perfect floors. Not only does their installation look and feel perfect, but they use materials that show wealth. Choosing materials like marble, stone, ceramic tile, pebbled tile, or glass tiles doesn't have to cost a lot. Shop the stores that carry the materials you want to use and set up a price alert on each of them that apprises you when they go on sale.
When waiting for a sale won't do, choose shopping stores known to carry high-quality merchandise at great prices. Shopping platforms like Temu and Amazon offer an amazing array of products at reasonable prices. Walmart has partnered with many smaller specialty stores, offering its products through its website. Using these platforms, you can find exquisite materials for a fraction of the cost.
These large-scale shopping platforms also provide access to materials you might not be able to find locally. Instead of using materials you don't like, or that don't suit the opulent appearance you want to create, shop online to find the best quality materials and compare prices. This lets you save money, yet still create an elegant living space.
Although the high-end materials used in these homes typically cost more, using them in small spaces can help you achieve the lavish look you want at a smaller price. For example, use teak for the wet bar, then use a less costly wood for flooring. Stain the flooring to match the teak, and you've created an opulent appearance without the massive price tag.
Perhaps your flooring already offers the best materials, but age has scratched the hardwood. Have the flooring refinished and hire a local epoxy floor coatings service to coat and seal them so they shine for years. Sometimes, simply refinishing the wood in your existing home can make it appear as if it's like the new flooring in the area's most opulent homes.
Preserving Beauty
A home's landscaping also adds to its lavishness. Many opulent homes hire an arborist to examine their trees and care for them. Plant maintenance along with proper landscaping adds to the home's exterior beauty.
Landscape architects draft a plan for your yard that includes plantings and hardscapes on all four sides. Curb appeal comes from all four directions, so your home should look great from every direction. A comprehensive plan includes every inch of the yard and draws varied plantings at various heights. The landscape architect follows the plan design to create plantings and hardscapes to match it.
Hardscapes, any built portion of the exterior environment, add to the enjoyment of the yard. Examples of hardscapes include driveways, walkways, patios, retaining walls, garden walls, and sports areas, such as basketball and tennis courts. The outdoor kitchen counts as a hardscape, too.
Your local landscape architect doesn't do all of this alone. They either employ their own landscape crews or hire a landscaper and their crew to install the plantings. The landscaper typically partners with a mason who installs the hardscapes.
Sculpting Your Body
Having put in all of those wonderful outdoor recreation areas to make your home like the opulent homes in your city or town, you probably want to look your best while enjoying them. Consider updating your own body with CoolSculpting before your first outdoor party. This method of creating a more toned physique takes just one visit to the plastic surgeon to start seeing results.
Like most procedures, this sculpting method includes some recovery time, so schedule it a few weeks before the party. You'll have plenty of time for the swelling and bruising to disappear, and by undergoing the procedure, you obtain a sleeker figure without cellulite or fat bumps.
Individuals with more serious weight issues would need to undergo liposuction or a similar process. This process removes the fatty tissue and the excess skin that covers the fat. Although it does leave some scarring, the surgeon typically locates the scars in hard-to-see areas, so you'll look great in a skimpy bathing suit or slinky dress.
Rug Cleaning
The most opulent homes use rugs inside the home and outside it. If your home doesn't already feature a few Oriental or Persian rugs, add a few to it. These intricately designed, vividly colored rugs create the appearance of a lavish setting, even in a rented apartment in Los Angeles or New York City.
Flokati rugs also offer this type of opulence. Their thick pile and soft furriness imbue a room with depth. Although this type of rug offers a monochrome design, it can add casual elegance to any décor.
Use outdoor carpets and rugs on the patio or deck to create a layered, decorator look. Check the descriptions online carefully and read the tags in stores to make sure that you're purchasing a rug designed specifically for outdoor use. Outdoor rugs and carpets feature waterproofing that helps them resist mold and mildew development.
Keep your carpets and rugs looking their best by contracting with a local area rug cleaning service. To keep them looking their best, clean carpets and rugs at least once per year. This cleaning typically includes carpet shampooing and may require the removal of the rugs so the service can clean them properly at their place of business.
Outdoor Culinary Experience
Recall those outdoor cooking and dining areas mentioned earlier. Those require outdoor kitchen contractors who employ master carpenters, masons, plumbers, and electricians. Complete construction crews such as these specialize in the design and construction of outdoor kitchens.
Instead of a cookie-cutter deck or outdoor living area, hire a firm to design a functional yet awe-inspiring outdoor kitchen for your home. Let them know what you want to do outdoors and how you enjoy entertaining. Mention any features your yard already includes, such as a swimming pool or gazebo.
Your outdoor kitchen contractor visits your home for a consultation. This visit results in your project estimate and provides the contractor with information on the home from which to work. From their visit, they produce ideas, but their staff surveys the area before they create the initial design.
Choosing the Right Contractor
This lengthy list involves hiring many local contractors. If you haven't done so before, read on to find out how to choose the right contractor for your job. Prioritize finding an experienced, licensed, certified contractor who can show you a portfolio of similar projects they've already built. If you want a custom design, request photos of their original designs.
Ask family members who they used for a similar project. Also, ask friends and neighbors. This provides you with a starting point for trustworthy contractors whose work you can examine up close and personal.
Read the online reviews of each of the building contractors from your shortlist. Pay the closest attention to the most recent reviews, since those refer to their current employees and work ethic. A review from two years ago with poor ratings doesn't reflect their current work.
Create a template for the estimates. You need to be able to compare estimates, and that's easier when each estimate includes the exact same items. If a contractor says they can "throw in" work on another project if awarded the job, let them create a second bid that shows the alternative estimate.
Creating an Opulent Home
Creating your ideal opulent home does not have to cost a lot or take years. Many small projects you can do yourself. For the other items, hire a trusted contractor who has completed projects like the one you want to do.