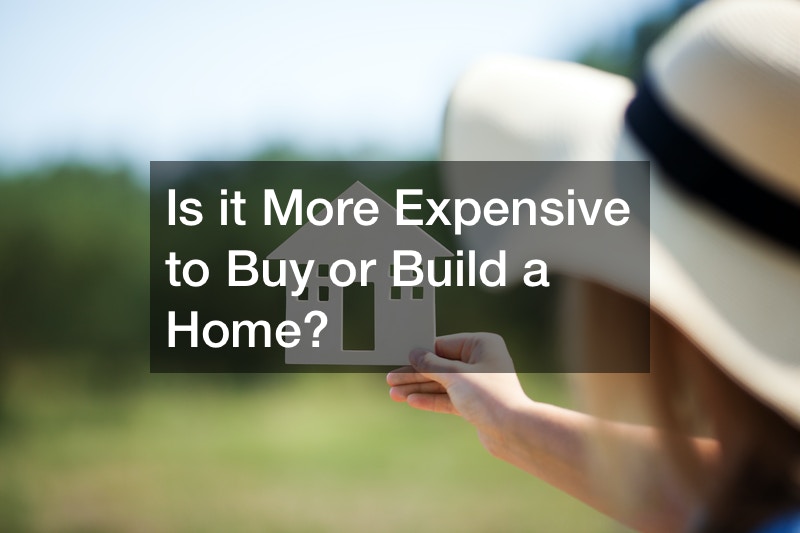 Investing in a home creates a sense of fulfillment in a person's life and it is one of the most important things that a person has to undertake for their own needs and their family. Before investing in a new home, some of the factors you should consider include space, cost, design, and the neighborhood. However, the big question remains: is it more expensive to build or buy a home? Since both options have disadvantages and advantages, it is crucial to conduct proper research and determine what works best for you.
Tips to Consider When Buying or Building a Home
Investing in a home requires proper research, dedication, and planning. Furthermore, investing in a home takes a big financial responsibility; hence you cannot afford to make mistakes. Some of the tips you can use to determine is it more expensive to build or buy a home include:
Understand the Cost Needed
Investing in a home is usually a costly affair. Regardless of the cost involved, a home is a worthy investment whether you choose to take a mortgage or use cash. Therefore, understanding the cost involved enables a potential homeowner to develop an effective plan for the project and avoid future frustrations. Moreover, a person can evaluate the financing options available and how to schedule their monthly income. In addition to the cost of building or purchasing a property, other costs to bear in mind include annual upgrades, hiring moving companies, and utility expenses, among others.
Location is an important factor when investing in a home. Furthermore, you should avoid making your investment in a certain area just because of the price. It is crucial to perform due diligence on the area by considering the neighborhood, market value, and what the area offers.
Work with Reputable Partners
Whether you choose to look for a home for sale or build a home, you should work with the right people, and this ensures that your investment is worth your money. When purchasing a home, you can evaluate the best real estate agent to work with by using online sources to check their ratings or seek referrals from friends, colleagues, or relatives. If you opt to build, you should gather a team of reputable builders, architects, and other service providers to guarantee quality and convenience.
Buy or Build a Home with Growth in Mind
After buying or building a home, you may decide to sell it in the future. Regardless of the duration that you may take to arrive at this decision, you will want to make a profit. Therefore, you should enhance your home value by making simple additions or upgrades. Besides, purchasing or building a home in a developing or developed area also increases its value with time.
What is the Average Cost of Building a Home?
Before a person decides to build a home, the big dilemma remains: is it more expensive to build or buy a home? The average cost of building a home in the United States is approximately $85.65 per square foot or about $237,760 for a 2,776-square foot residence. However, building a home is somehow a complicated matter. When constructing a personal home, you can only get a solid idea of the cost involved by getting a set of architectural maps and specifying precisely the house you intend to build. You can approximate the cost involved by selecting house plans and requesting a few architects and providers of home building services, such as your custom home builders and professional roofing company in your location, to provide cost estimates. This will enable you to have a clear picture when developing your plan.
Land plays a significant role when determining whether is it more expensive to build or buy a home. Although the price of purchasing an existing home factors into the land value, a person needs to acquire land first when building a house, and this is usually an extra cost that determines the final price of the home.
The following are some of the things you should consider before building a home:
The Purchase: Typically, the land value also determines the total value of an existing home. However, constructing a house on vacant land is more complicated. If you intend to finance the building project, you can apply for a construction loan to buy land, materials, and labor. This loan will transform into a traditional mortgage after the project is finished. Land without onsite utilities like electricity and water is usually hard to finance since the lender may face difficulties selling the property when someone defaults.
Utilities: When building a home, it is essential to consider factors such as the cost of connecting utilities and getting permits. However, some homeowners usually overlook these necessities, and these costs may amount to tens of thousands of dollars. Depending on the location, issues involving permits can extend the timelines to finish the building process. Therefore, if you intend to build a home, you should restrict your land search to locations with onsite access to amenities and utilities. You can also consider requesting the seller finish connecting some of these utilities before making an offer on the property.
Excavation: Land quality is another factor you should consider when implementing a decision to start the building process. Some of the basic land quality issues include the presence of rocks below the land surface, the slope of the land, and the availability of drainage, among others. These factors play a significant role in the overall cost of building a house, since making the land ready for the construction process can be costly depending on the land condition. It would help if you considered hiring an expert to approximate the costs and evaluate whether the land is a worthy investment.
What is the Average Cost of Construction Materials?
Is it more expensive to build or buy a home? The answer may work in favor if you know where resources go. A significant amount of money is usually spent on the finishes and building materials based on the housing classification: luxury, economy, custom, or standard.
Internal housing finishes constitute approximately 29% of the total building cost, which is about $ 67,939 for an average home in the United States. While costs such as drywall and insulation have limited flexibility, other expenses, including lighting, paint, flooring, air conditioned storage, cabinetry, and appliances, have many options. Therefore, if you opt to construct a home, it is crucial to research the cost of construction materials in your region before beginning the project since this helps in implementing your building plan.
What is the Average Cost of Purchasing a Home?
The average cost of owning a home in the United States is approximately $237,760. However, you should also include additional costs before you call your moving service providers. These extra costs include:
Closing costs: Typically, closing costs include survey fees, appraisal fees, underwriting and origination charges, wire transfer fees, title insurance, and document preparation, among many other charges. Homeowners should expect these costs to range between 2% and 5% of the buying price.
Real estate agent commission: The real estate agents of the seller and the buyer usually share a 6% commission on the property sale.
Property taxes: Property taxes in the United States increased to at least $3,498 per home in 2018. However, the taxes may cost less or more annually based on the house's value, state tax rates, and the neighborhood.
Homeowner's insurance cover: Like property taxes, home insurance rates differ based on the home value and state. Besides, the homeowner's credit score also matters. In the United States, the average homeowners' insurance cover cost is around $1,083 per year.
Private mortgage insurance or PMI: If a person buys a home using a down payment of less than 20%, they will have to pay PMI on their mortgage until their equity reaches 20%. Typically, the cost of PMI ranges from 0.5% to 1% of the loan per year.
Homeowners' association fees or HOA: Homeowners may also have shared expenses with neighbors that cater to common areas' maintenance. This is common in neighborhoods with associations. Therefore, it is essential to know exactly the amount required to pay as you move into a new home.
Risks of Building a Home vs. Purchasing a Home
Regardless of the answer surrounding the dilemma, is it more expensive to build or buy a home? Both options require more finance than renting when it comes to moving in. Besides, the monthly housing cost of homeowners is usually higher than renters in every state of the United States.
However, transitioning from a renter to a homeowner has many practical benefits, such as mortgage tax deductions, better equity over time, and pet ownership and design choices, for example, kitchen cabinet design. Owning a home also creates a sense of stability and fulfillment that most people wish for. However, the benefits of homeownership also come with risks. The following are some of the factors you should bear in mind before implementing your project:
Employment loss or transfer: Loss of employment is usually distressful regardless of the circumstances. However, this is far worse for homeowners than renters. Failure to pay a mortgage can lead to foreclosure; hence, a person may lose their home, which can damage their credit score. Although a workstation transfer is less serious, a homeowner may end up selling their property or abandoning their project at a loss. Therefore, it is essential to consider your career or employment plans over the next years, including your perception of the location, before you implement any plans. You can consider having a conversation with your employer about your job stability and what actions you can take to make it more secure.
A declining market: Home values in the United States depend on employment rates and market trends; hence, homeowners have restricted control over their investment stability. Therefore, it is essential to research unemployment rates, projection growth of your city, and neighborhood values before you buy a home.
Increasing property taxes: Typically, property taxes always have the possibility of rising. Therefore, the X-factor of the initial tax evaluation can significantly affect your budget more than anticipated when building a home. It would help if you considered enquiring from your builder or real estate agent to estimate the property tax costs in your location according to the latest data. Creating a budget ahead of time helps a person to prepare.
Unforeseen maintenance: Constructing a home entails some unexpected building costs. Besides, even established houses may also need costly renovations. For instance, older houses are likely to need siding and roof repairs, increasing the cost to incur. Water heaters and furnaces must also be replaced after 12 to 15 years, and old-fashioned plumbing and wiring may also increase the cost. Furthermore, it is also essential to consider the cost of updating home equipment and aesthetic features to update your home appearance. It would help if you considered seeking help from a home inspector to determine the extent of the potential repairs needed to the house and determine whether the home is worth the seller's offer.
Although people usually focus on the dilemma, is it more expensive to build or buy a home, it is also essential to factor in the above risks before implementing your project? This can save you from future frustrations.
Buying vs. Building: Which is the Best?
Before you decide on whether is it more expensive to build or buy a home, you should consider some factors since your decision will affect your finances. Some of the factors to consider include:
Your credit: Whether you opt to buy or build, a good credit score is essential in securing low-interest rates and controlling your expenses. Credit-scoring firms calculate a person's credit score based on the details in their credit reports.
The ability to lock in certain expenses and rates: A person can strategize for fixed costs since constructing a home has many variables. Partnering with a contractor willing to help you save on subcontracting third-party and construction materials can save the overall cost. Besides, you should also participate in the building process. A fixed 15 to a 30-year mortgage is ideal for locking in interest rates and guaranteeing a predictable monthly payment when purchasing a new home.
So, is it more expensive to build or buy a home? It is difficult to accurately determine the costs incurred in purchasing a new home or building since this depends on its location, needs, and preferences. Buying an existing home is a safer option when it comes to financial risks. However, you can still affordably build a new home if you have the land and are a reliable builder.
Is it more expensive to build or buy a home? This depends on a person's situation and how convenient the option is for them. Therefore, it is essential to evaluate the two options carefully based on their benefits and risks involved to get the most out of your resources.