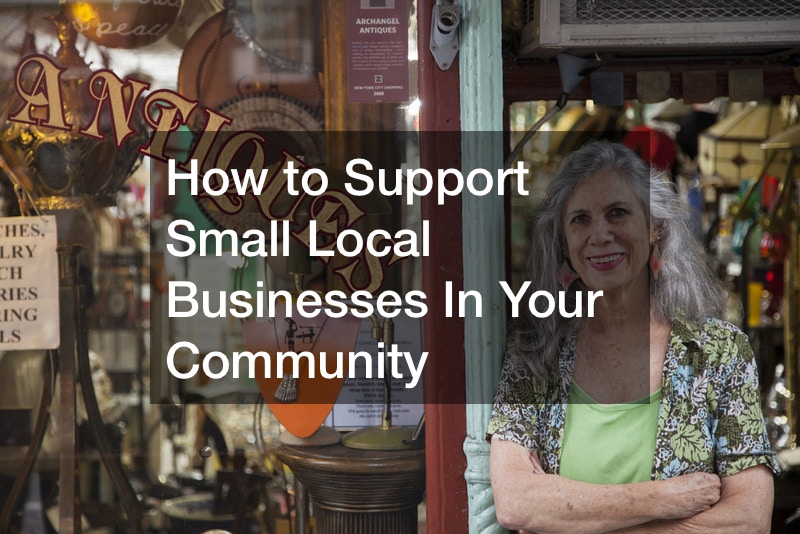 Now more than ever, small businesses are an integral part of our communities. They are the glue that holds our neighborhoods together, a constant reminder of the hard work and dedication of our friends and neighbors. This is why it is so important to support local businesses in your area through commerce, participation, and social media. It is only through widespread community involvement that our small businesses will survive. If you find yourself asking how to support local small businesses in your community, keep reading for some useful tips and ideas to get you started.
Leave Glowing Online Reviews
Wondering how to support local small businesses? A good way to start is by leaving reviews for the services they provide. So many people rely on reviews when they make decisions about where to shop, where to eat, and which businesses to frequent. Did you recently install central air in your home and were pleased with the service? Then show your support for your local heating and air conditioning service by leaving a great review. Have you recently began trying CBD products from a friendly neighborhood dispensary, and are eager to recommend these products to a friend? Share your thoughts in an online review, and you will not only give the business a boost, but you will also be able to inform others about the benefits of CBD. By taking just a few minutes of your time, you are making a difference in your community. Your reviews may help others by showing them how to support local small businesses.
Utilize Social Media
Using social media to support local businesses goes hand in hand with leaving online reviews because a business' presence on social media can have a great impact on their success. If you find a business you like, don't hesitate to like them on Facebook, or give them a shout on Instagram. Often even these small gestures can boost a small local business's presence and get them noticed. Checking a business' social media can also help you decide what businesses to frequent—based on reviews, user likes, and especially comments.
Are you moving and looking for a local moving company? While checking reviews is important, be sure to check social media as well to get a feel for the business and see what others are saying. Many small local businesses such as contractors, residential roofing companies, and electricians will use social media as a network to promote their businesses, and when you utilize social media, you are doing the same. Following local small businesses you like on social media can have a greater impact than you think. Your comments and posts may then influence others in your network, thus introducing them to the businesses you know and love, making them potential customers.
Advertise and Attend Local Events
Many people struggle with how to support local small businesses in their area, and sometimes they want to go that extra mile and do a little more. A wonderful way to support your local small businesses is to participate in community events. Check out the food festival where your favorite Mexican food distributors have a taco truck, or head to the street fair and check out some handcrafted, artisan items from your favorite corner shop. Community participation shows local small businesses that the community is willing to give back by showing them support. While you're out and about representing your neighborhood, pick up a t-shirt or hat sporting the logo of one of your neighborhood go-to's. By representing your local small businesses, you are providing them with free advertising, which is another great way to show others how to support local small businesses.
Buy Gift Cards for Friends or For Future Use
Still thinking about how to support local small businesses? Purchasing gift cards is an easy, convenient way to show your support while also encouraging others to frequent the local small businesses you know and love. The next time a friend has a birthday, pick up a gift card at your local restaurant for them to enjoy. In this way, you are not only giving a gift to a friend, but you are also potentially gifting your favorite local small business with a future customer. Give cards also have another benefit. If you can't visit your favorite places as often as you would like, purchasing a gift card for future use is a great way to show support, and it's a win-win situation for both you and the business. You get to look forward to using the gift card in the future while your local small businesses immediately benefit from their purchase.
Order Takeout
Often, when we think of how to support local small businesses, we think of restaurants. Restaurants are some of the most important small businesses to support because they are integral to the fabric of our communities. We all have our local favorites, but the next time you want to order takeout, think about stepping outside the box and trying something new. Road signage can be a great way to find your new favorite eatery, as many local businesses advertise on signs and billboards.
Take a chance the next time you order takeout by trying something new and local. The first step to figuring out how to support local small businesses is trying new things, and a great place to start is by ordering takeout from a delicious new restaurant. Also, don't forget that many retail locations are now offering curbside, so your takeout doesn't have to be limited to dinner. You can shop online and pick up whatever you may need from many local businesses.
Tip More Than Usual
When thinking about how to support local small businesses, think of the business not as a whole, but as the sum of its parts. Any successful business rests on the shoulders of its employees, and this goes double for small businesses who sometimes only rely on a handful of employees to get the job done. Showing your gratitude through generous tipping is another way to support your local businesses. And don't forget that tipping is not just for restaurants. Many other businesses will accept gratuities with thanks for a job well done. Have you tried the new barbershop around the corner? Show your appreciation with a tip. Did you check out the business sign service of the print shop down the street? Let them know they did a great job with a nice tip. Going the extra mile is always important when we are thinking of how to support local small businesses.
Donate Money From Lost Subscriptions and Memberships
Something to consider is how to support local small businesses if you are a small business yourself. Small businesses do not solely rely on customers for their success, often it takes the support of other local businesses to lend a hand when times are tough. So how can you give back, when you are doing well, and other businesses aren't? One good way is to utilize your business insurance. If your insurance covers losses that you may receive from lost memberships or subscriptions (i.e. customers paid ahead, but for whatever reason, did not use the service), you could use the extra capital to make a charitable donation to another small local business. Donations such as these can be an extra boost to a business that is struggling, and the best part is that it is a contribution to the community as a whole, a great way to show local appreciation, and a wonderful example of how to support small local businesses — even if you are one yourself!
Volunteer Your Time
If you are thinking about how to support local small businesses, you may want to think about spending something more than your money. Your time can be just as valuable to a small business that may depend on volunteers to keep it going. Have an extra few hours during the week? Contact your local animal care clinic and see if they need any volunteers. Other great places to volunteer your time are at non-profits that solely rely on community contributions for their success. Does your town or city have a local business association or Chamber of Commerce? Find out how you can get involved in local events, or even participate if you are a small business owner yourself. Local small businesses are vital to our communities, and often giving your time can be just as important as giving your money.
Organize Local Events and Fundraisers
As mentioned above, local events such as food festivals, musical performances, and street fairs are great venues to support your local businesses. However, many businesses must pay to participate, and may not directly benefit a much from these events. This is how you can help—by organizing a local event through your neighborhood association, Facebook, or NextDoor group. Gather your friends and neighbors together to support local small businesses through events where they can directly benefit. Fundraisers are another way to garner support for local businesses. By attending and bidding on items from local small businesses, such as gift baskets, gift cards, or other goods and services, you are not only helping the local community but also contributing to the success of small businesses who benefit from the exposure.
Offer Your Own Professional Expertise and Tips
Another way to support local small businesses is to offer your professional advice and knowledge. This can be just as useful as volunteering, except with the added benefit of providing a service to a business that may help them be more successful. Did you major in English? Are you an expert in writing creatively? Offer your services to your favorite local business to contribute to their blog. Are you an experienced attorney? Consult with your local law office to see if they have any pro bono work. When you think of how to support small local businesses, get creative. A little time, effort, and advice go a long way toward ensuring the success of local businesses in your neighborhood.
Contact Your Local Member of Congress
Believe it or not, contacting your local member of Congress can have an impact — especially if there are others in your community who do the same. Encourage your local representative to support or introduce legislation that offers aid to local small businesses that are struggling or impacted by unprecedented hardships. Local, state, and federal support for small businesses begins in your neighborhood, and with your local elected officials. The next time you wonder how to support local small businesses, remember that you are just one of many in your neighborhood who shares these concerns. Binding together as a community is especially important when you want to make a difference through involving your local elected officials.
Check Out Business Websites For Deals and Promotions
Another smart way to support small local businesses is to stay up to date on any special promotions or deals that they may be offering. Maybe you want to try a new business that's out of your price range. Perhaps it's a place you haven't been to in a while, and they have a new menu, product, or service to offer. Regularly checking out your local small business websites can keep you informed about anything new and exciting, and you may save a few bucks in the process. Taking advantage of deals and promotions is a good way to support your local businesses without breaking the bank.
In these unprecedented times, it is especially important to support small local businesses in your community. Small businesses are often the backbone of the local economy, and they also provide useful goods and services that are unique to the community. The best way to start is to ask yourself how to support local small businesses in your community. The ways listed above are just a start. Your task is to get creative, get involved, and participate as much as you can to ensure your local small businesses survive and thrive.