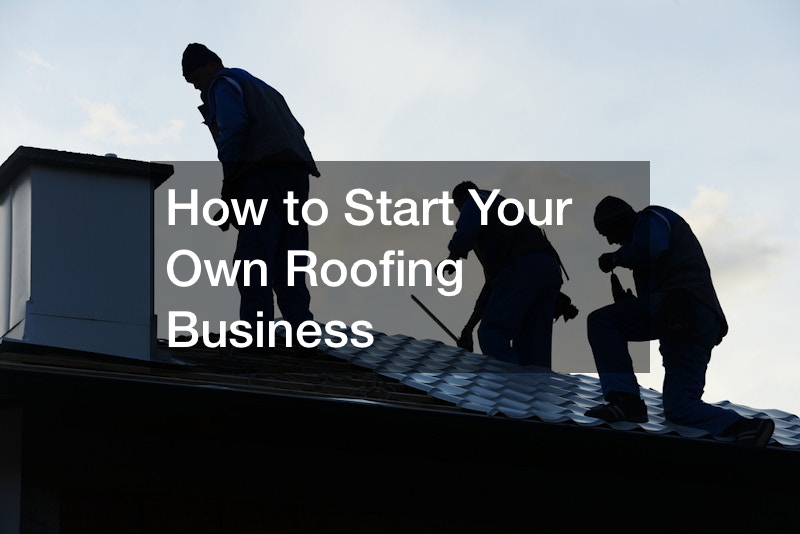 Those with an entrepreneurial spirit will often want to figure out how to get started in the business world. If you have wondered how to create your own roofing business, you may be among the people who can reasonably call themselves entrepreneurs. This is why you should start thinking about the steps you will need to take to create a roofing business. It is not something that you begin overnight or can do without proper planning.
Let's look through the various steps that need to be taken to ensure that you can create a roofing business that will get the kind of customer base you require to remain viable. This is massively important as you are looking at what you can do to create a better financial situation based on the amount of business you generate. Make sure you think all this through as you work on the necessary steps to get yourself from point A to point B.
Hire the Right Help
You need to have access to the correct type of roofer to help create the business that you want to have. If you are already a roofer, you may be able to use your labor to get your business up off the ground. However, you should make sure that you also have a few other people on staff that you know can help with the roofs that you will be building and working on. It may take some time to do a few interviews with people to figure out who you need to put in this kind of position.
The labor markets are particularly tight right now, and you should brace yourself for the reality that it might take significant effort to get the labor you need for this type of service. Ensure you consider the people you need to hire for this type of work. You may need to offer reasonable salaries and benefits to help find the people that you need for this work. If that is something you can pull off, you will likely be able to attract the people you need. Ensure you start with this step first to have the individuals you require under your employment before you begin your business.
Offer a Variety of Services
As you set up your business plan and figure out how to start your own roofing business, don't forget that you need to offer more services than the other guys. This means you may want to go out of your way to show things such as new roof inspections and roofing repair services that your customers can rely on. If that is the kind of thing you can pull off, then you will find that more customers will gravitate toward you as they realize that you are a one-stop shop for them and their roofing needs.
When working on something like this, you may find that you can create the kind of roofing business that will make it easier to get a solid customer base for yourself moving forward. Think carefully about the different services you can offer to put yourself in a better position than the other companies in your area. Knowing that you are doing everything you can to help your customers will make them want to help spread the word about your greatness. The term of mouth marketing you can get from a service like this is second to none.
Work with Different Client Types
\
Not only should you be working to offer different types of services in the roofing industry, but you might also want to consider working with different types of clients. Sure, you have probably already thought about how you can offer your services as a residential roofing company, but have you considered the possibility that you might also want to help with commercial spaces? This can help you diversify your services and make it easier to create the loyal fanbase of customers you have come to rely upon.
If you were working as a commercial roofer, you might find that you can get larger projects under your belt quickly. Many people who do this can net some big clients for which they can get large roofing projects accomplished. They may be able to help with the roof installation for these clients for many of their different properties nationwide. That is a big deal for a roofer just starting a business. If you want to create your own roofing business and find a stable and steady supply of clients, consider getting into the commercial roofing space.
Offer More Comprehensive Roof Types
As you were looking at how to start your own roofing business, a fundamental tenet of what you should be doing is offering more comprehensive roofs. It would be best to supply your clients with a better roofing experience than they can get from the people working down the street. When you outmaneuver the competition like this, you prove that you are worth the money your clients spend on your services.
One way that many companies have found to put themselves ahead of others is to work on gutter installation as a service for their clients. Setting up this type of thing on your property can be beneficial so that the roof lasts longer and delivers better service. This is why you may want to look at gutter installation as an add-on to the surface you can offer your clients.
When your clients see that you are willing to go the extra step for them and to help them with the kinds of things that they need for their roof to last a long time, then they are likely to recommend you as the service to go with if someone else in the Community asks who to hire for roofing services, this is why you want to consider this as you are looking at how to start your roofing business. You can and should put yourself in the driver's seat to deliver for these customers so they always know they can rely on you when they need more help.
Offer Next Level Services
As you are looking at how to start your own roofing business, think ahead to the future. You can't always be looking at the things that have already been done in the past to have a successful business. Instead, you should be relying on trying to think one to two steps ahead of the competition always to remain just a little more advanced than they are. This is why some companies starting today, focus significantly on solar installation.
When looking at how to start your own roofing business, you will want to emphasize the solar component of the roofing situation you have set up for yourself. It is a huge deal to make sure you can generate the power you require from your roof so that you have everything necessary to create a lot of energy and make your roof look fabulous no matter what. If you manage to do all of this, you put yourself in a great position to take care of lowering energy bills and keep the home as environmentally friendly as possible.
The people that get solar panels put up in their homes are often able to appreciate the fact that they have done something positive for themselves while at the same time helping the environment. Many believe that it is too expensive for them to put solar panels up on their roof, but that is not necessarily the case. As you are working on how to start your own roofing business, make sure you help to explain to your customers that they truly can afford to get solar panel installation. They need to know that the cost of these services has come down and that you can provide them at a reasonable price.
Supply the Masses
The question of how to start your own roofing business will always come down to the types of customers you want to supply your services. This is why residential roofing is the go-to for many people just starting their own roofing business. However, you can always branch out into other types of roofing after you have nailed down the specifics of how to do the residential roofing projects you are assigned.
Getting started in residential roofing makes sense because these are smaller roofs, and it doesn't take as much specialized knowledge to get started in this part of the field. As you continue to sharpen your skills, you should work on the other projects that may be available now. If you are the kind of person who is not afraid to take on a challenge, then it makes perfect sense that she would go out of her way to take on new and exciting roofing challenges as time goes on. Start with the residential roofing industry basics to build a clientele and then work from there.
When you are still figuring out how to start your own roofing business, you don't want to overwhelm yourself with projects beyond your expertise or too large to handle. When you start with these smaller projects, you can have a smaller crew to help you and get you on the right path toward a better outcome for yourself. That is precisely what you need to do if you are going to get yourself into a better situation moving forward.
Promote Your Services
As you want to start your roofing business, you must understand that a big part of the game is learning how to market yourself as a great roofer. People tend to trust those who have expertly helped to create the perfect marketing pitches for the services that they have to offer. If you can do this, you should work with those who can create great marketing campaigns.
When you work hand in hand with others to help create a good marketing pitch for yourself and put yourself in the best possible position to take on any challenges, you will get your message out to more people than ever before. Many people don't realize that you even exist until you begin to put things in their mailboxes and other areas that allow them to understand that you are in the Community. You might start with simple fliers and essential marketing materials to get yourself up and off the ground.
After you have worked out all that, you can take other steps to let people know that you are involved in the roofing industry and want to help them. You might find that it is easier than you had ever imagined beginning to make some progress on the kinds of things that you need to accomplish to be a great roofer and truly help out your customer base. And she works on how to start your own roofing business. Also, think about the future of Internet marketing that you might need to do later. Keeping at least one eye on the end is always a good idea.
Provide Excellent Customer Service
With every job you do for any customer, you should always ensure that you provide excellent customer service. They need to know that you care about what you are doing for them and that you want them as a customer in the future. While looking at how to start your own roofing business, you must ensure that this is always a top priority. if you don't provide exemplary customer service, people will flee from your company and never bother to hire you again.
Worse than all, you could damage your reputation with other potential customers that you might have been able to collect for yourself otherwise. Ensure you never put yourself in that position by always going out of your way to provide the best quality customer service possible. This will help you figure out how to start your own roofing business and keep the customers you need coming through your door so that you have a steady stream of clients to provide your services to.