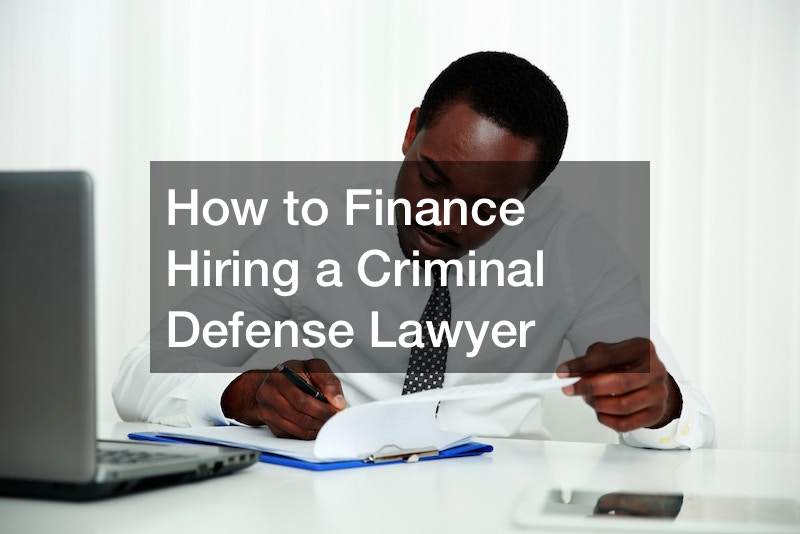 It's mindboggling that according to the Innocence Project, nearly 6% of convicts in U.S. prisons are innocent. That's about 1 in every 20 cases with an erroneous guilty verdict! These statistics should worry you when arrested as a criminal suspect. However, hiring a criminal defense lawyer is the only way to successfully prove your innocence, get bail bonds, and stay out of jail.
Sometimes, criminal defense lawyers can be pretty pricey, especially when you don't have a surplus budget for emergency legal fees. So, whenever you find yourself in such a difficult situation, don't panic! In this article, you'll understand the various options to help you finance an excellent criminal defense lawyer. Keep reading to stay out of jail. Let's start!
1. Payment Plans
Legal fees are among the major concerns when hiring a criminal defense lawyer. Therefore, to accommodate such fears, a payment plan arrangement is quickly becoming popular when you visit a typical criminal defense law office – and for good reasons. The plan is generally an arrangement between a criminal lawyer and a client to spread legal fees, allowing you to pay in tranches at agreed intervals. It means you won't pay the legal fees one-off, making legal expenses affordable.
Most talented and experienced lawyers are outright expensive. For this reason, it's next to impossible to afford such precious legal representation. However, the payment plan option makes it easy to afford such attorneys by spreading the legal costs over a manageable period. It provides financial flexibility to help you afford any defense attorney.
Legal battles are mind-draining events, and the thought of breaking the bank for legal representation is nerve-wracking. However, the payment plan option will give you peace of mind. Being able to pay legal fees over time helps you relax and relieve stress and anxiety.
2. Loans
According to Baylor University, nearly 100 million U.S. citizens can't afford legal fees! While the stats are dumbfounding, to heighten your chances of winning a criminal case, hiring a criminal defense lawyer who's a guru in criminal law isn't an option. You must do what it takes to finance hiring a criminal defense lawyer. If you can, secure a loan to finance your legal representation.
Typically, you want to take a litigation loan. The loans pay for disbursements and legal fees to the lawyer. Usually, you are expected to pay the loan in 36 months or by the end of the case. While the attorney can facilitate the loan, it's an agreement between the credit provider and the client. The lawyer gets no commission for the referral.
Typically, loans to cater to your legal fees work just like a typical personal loan. Even so, the rates and terms for the loan vary by the financial institution. Generally, the longer the duration of your loan, the higher your annual percentage rate (APR). However, your repayment will spread over more years, and your monthly payments will be manageable.
You may get a lump sum from your financial institution to pay the legal fees. A few banks may offer same-day funding. Therefore, instead of owing the lawyer, you'll owe your lender till you pay your loan in full.
3. Pro Bono Assistance
Did you know that according to the New York Times, 53% of American households lack an emergency savings account? You may be in the same situation, and hiring a criminal defense lawyer will be too expensive. However, don't panic. You can opt for a criminal law firm or other institution offering pro bono assistance.
Typically, some law firms and individual attorneys will offer you pro bono (free) services when you can't afford to pay for legal representation. However, you must be eligible to benefit from such services as the program's design works to help people without strong financial muscle, usually the less fortunate.
Also, you must know that a few law schools have legal clinics where law students provide free legal services to the community. When financially drained and needing legal counsel, you may also consider seeking help from such clinics. Typically, these students work under the supervision of highly skilled professors, meaning you're in safe hands.
Also, there are legal aid organizations that you may benefit from pro bono or low-cost legal representation. However, you must first meet their eligibility criteria to benefit from their services.
4. Credit Cards
For good reasons, credit card processing is becoming popular at law firms and bail bonds companies. Typically, the payment options allow you to combine financing and borrowing and work well for emergencies such as hiring a criminal defense lawyer. Also, they have the convenience of use. For instance, you can use them to pay online, over the phone, or make in-person payments. Therefore, you don't have to write cheques or carry large bags of money.
Using credit cards to cater for legal costs will allow you to pay later. Therefore, it will help you manage your cash flow, especially when you lack the full saved amount. Also, a credit card allows you to access funds quickly, lessening unnecessary delays to your legal representation.
5. Public Defender
Hiring a criminal defense lawyer doesn't come cheap; if you can't afford one, it will be best to inform the court that you need a public defender. Typically, public defenders are on the government's payroll to help present the people for free. However, your eligibility to get a public defender heavily depends on your assets, expenses, and income.
Public defenders have the experience and expertise to deal with criminal cases such as yours. Also, they know courtroom procedures, legal strategies, and formalities. What's more, they can handle intense criminal cases seamlessly and ensure that you'll have equal access to justice regardless of your financial status.
Having a public defender on your side can benefit you. For instance, due to their nature of work, they typically have a good working relationship with the court staff, judges, and prosecutors. As a result, it becomes effortless for them to negotiate plea agreements on your behalf and navigate the local legal system seamlessly.
Typically, a public defender doesn't work alone but has colleagues in the larger public defender's office who are potential resources to win your case. For example, they have supporting staff, investigators, and legal research databases that they can use to have an edge in building your solid defense case. Therefore, you get representation without spending a dime.
6. Retirement Savings
How will you enjoy retirement savings after a life sentence? Impossible, right? Therefore, using your retirement fund to pay a bail bondsman to get you out of custody while waiting for trial or hire criminal defense attorneys to represent you in court makes sense. Although pricey, it's worth it if it gets you out of jail.
If you have an IRA or 401k with your current employer, you can withdraw funds to pay your legal fees from this account. However, such withdrawals are expensive. Typically, they attract an early withdrawal penalty charge and a significant tax on your withdrawal amount. However, taking a loan from your 401k is a better option because the facility will attract low interest. Paying back the loan means paying yourself. It's best to talk to your employer about these options.
Before digging into your retirement savings, seek your financial advisor's counsel. Typically, withdrawing your retirement savings has an adverse financial impact on your savings. For this reason, it's best to exhaust other alternatives fully before settling on this option.
7. Legal Financing
Sometimes, hiring a criminal defense lawyer may seem impossible due to financial constraints. The good news is that specialized legal financing companies fund legal services. The process works like a cash advance. You'll get the money to pay legal fees upfront, which you'll pay back from case rewards or settlement proceeds.
Legal financing is a service designed to help you pay for expenses associated with legal representation. For example, they'll help pay for expert witnesses, hire a criminal or a bail bond lawyer, and other expenses affiliated with your court case.
However, you must complete their application process to get financing from legal financing companies. At this stage, you must provide needed information about your lawyer, financial situation, and other relevant information about your case. Then, the company will review your application to determine whether you're eligible for their services.
You must know that such companies have unique terms and conditions for dispersing their loans. As a result, before applying for the loan, it will help to check their interest rates, repayment procedures, and any other charges you'll incur when applying for the loan. Also, you must understand recourse if you don't win your case.
8. Borrow
Let's agree. You must be in trouble if you're looking for a federal criminal defense lawyer. So, this is the best time to reach out to your family for help. They are your safety blanket and probably your only hope to raise your attorney fees. You must explain to them that you risk being jailed without the attorney's help. Let them understand why you need legal services immediately and why they should consider your plea an emergency.
If you can, it will be best not to go into details of your arrest. It may be challenging to explain to them the details of your case. Most of them will understand that such information is confidential, and you can only talk to your lawyer regarding your case.
Luckily, most criminal law firms allow your family members to pay them directly. So, if your family doubts that you may not use the funds to pay your legal expenses, they may pay the law firm directly. Even so, the details of your case will remain confidential.
9. Use Your Inheritance
The major purpose of having an inheritance is to provide your protection and security as the beneficiary. For this reason, hiring a criminal defense lawyer is one of the situations that fulfill the purpose of your inheritance. So, if you're expecting a trust or inheritance to be handed over to you in the future, instead of waiting for the funds, now is the appropriate time to speak to ask for an advance from the trust holder.
Your inheritance will work as your major financial boost when you don't have the funds to pay for substantial legal services. Having a criminal lawyer to represent you is crucial to winning the legal battle, and your inheritance funds can ensure you'll get quality representation in court.
According to the Federal Bureau of Prisons, in 2023, about 25.2% of inmates will serve between five and 10 years in prison. 15.3% will serve 20 years or more in prison, and 2.5% will spend the rest of their lives in jail. The statistics indicate that you may easily end up in jail without proper legal representation. Therefore, using inheritance to finance your attorney is a personal investment to protect your future. You'll save yourself from possible jail time, damage to your reputation, and hefty fines.
10. Refinance Your House or Sell Your Car
If you're facing possible severe jail time, you will not be driving your vehicle or living in your house as a convict. Hence, it will be a good idea to refinance your home or sell your car to get quality legal representation to avoid serving time. You must know that your precious assets are replaceable, but if you lose your freedom, it's gone forever.
The hardest part about these options is that you'll need to sell your car or refinance your house quickly. As a result, you may not get as much after selling your car if you have ample time to negotiate prices. Also, refinancing your house may not have the quickest turnaround and can be stressful.
Hiring a criminal defense lawyer isn't cheap, but it's your only shot to save you from hefty fines and keep you out of jail. Most times, when arrested, you may not have emergency funds to pay for legal fees. However, there are a few financing options that you must consider when hiring an attorney, such as using your inheritance, legal financing, borrowing from family, paying with credit cards, and opting to use a public defender.