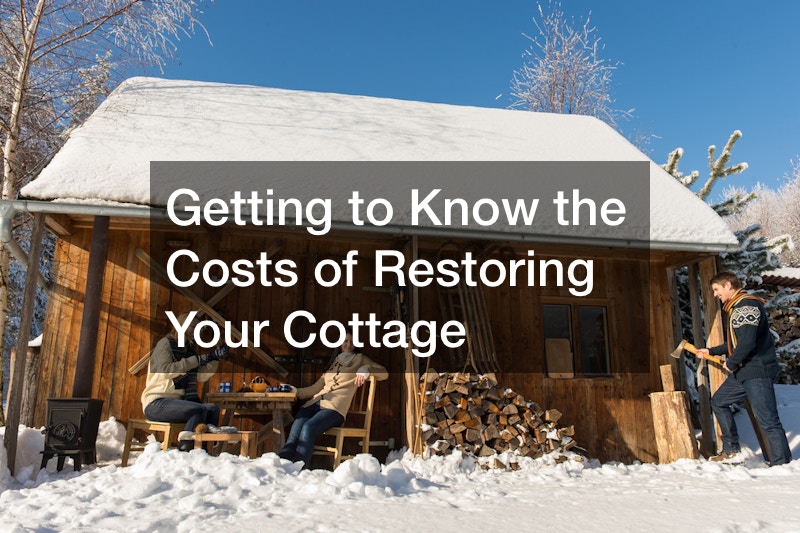 Do you own a cottage that currently looks uninhabitable? If so, we want to help you restore its beauty and functionality. We know your cottage holds a special place in your heart, so we want to help you revive it. Whether you're looking for a simple repair or a custom upgrade, we have everything covered in this post, including the costs and benefits. Here's your guide to restoring your cottage.
Understanding Your Cottage
Before renovating or upgrading your cottage, it's essential to understand its unique construction and features. Every house is unique, so the upgrades needed and the cost may vary significantly. Cottages are often characterized by their architectural style. They come in both traditional and modern custom designs to suit individual needs. Knowing your cottage style can guide your renovation choices.
Cottages are made with different materials, including brick, wood, stone, and thatch. The choice of material impacts the maintenance and restoration requirements as well as the cost. Regarding foundations, some cottages rest on concrete slabs, while others have brick or stone foundations. So, when restoring your cottage, you want to ensure that it has a solid foundation, which is crucial for structural integrity.
The Costs of Reviving Your Cottage
Now that you understand your cottage, it's time to give it a facelift. But remember, any home improvement project requires careful planning and budgeting. You want to know how much the project will cost and what you can actually afford. Of course, the costs will vary based on many factors—but you should have an almost accurate figure if you budget well. Here are the costs of restoring your cottage.
One of the essential projects you'll be undertaking to revive your cottage is installing new windows. Yes, your cottage may have windows, but they may not be what you want now. Therefore, you can consider upgrading your windows to suit your style, needs, and budget.
Upgrading to modern windows will allow you to maximize all cottage views. This is important, especially if the cottage is used explicitly for vacationing. You want to opt for wide, expansive windows that offer a clear view of the outside environment.
What's more, new window installation increases your cottage's curb appeal. There are various styles and designs to fit into your home's style. You can even order custom windows based on your needs, preferences, and budget.
Also, you should consider window upgrades for your cottage to enhance energy efficiency. Your cottage windows can significantly influence your energy bills. Modern, energy-efficient windows minimize your energy consumption, lowering your energy costs.
But how much does a window install cost? According to Market Watch, replacing your windows will cost an average of $467 to $1,333, including materials and labor. However, this cost will vary based on the type of windows installed, the size, and the person installing them.
2. Cost of Replacing Your Cottage Roof
Your cottage roof is among the most visible areas of your property. Everyone can see it, even from a distance. Therefore, if you're thinking of restoring your cottage, roofing will be among the priority projects to tackle.
Whether you need roof repair or replacement depends on the roof's condition. Leaks, damaged or missing shingles, and uneven areas are signs of roof damage that require repairs. While a roof repair can address these issues, you'll need a roof replacement if you have an older roof nearing its end.
Bankrate estimates roof replacement costs at around $9,117. Approximately 40% of this cost goes to materials, while 60% goes to labor. Still, the cost of replacing your cottage roof will vary based on your roof's condition, the type of materials, and your roofer.
3. Costs of Preventing Water Damage
Is your cottage built near a lake, ocean, or any water body? If so, it might be vulnerable to water or moisture damage. Therefore, when restoring your cottage, you want to implement waterproofing measures to prevent damage.
For instance, consider waterproofing your cottage's foundation to prevent water seepage and leaks that could create water damage, mold, and mildew growth. Houses prone to water damage face risks such as weakening foundation materials, odors, and various health issues stemming from water stagnation. You can prevent these damages and risks by sealing holes, cracks, or any open ways in your cottage's foundation. Additionally, waterproofing your cottage gives it a longer life. Your cottage is well-protected and equipped to deal with intense conditions. This increases your building's longevity and durability.
But how much does waterproofing your cottage cost? Home Advisor says you could spend an average of $4,952 to fully waterproof your basement, foundation, or crawl space. Of course, this will vary based on factors like your cottage size, waterproofing materials, and the contractor you hire for the job.
4. Cost of Installing Hardwood Floors
Do you want to enhance the look of your cottage? If yes, consider installing hardwood floors. When it comes to hardwood flooring installation, your options are limitless. From the wood type to the way it's cut and assembled, you'll have many options to customize your floor based on your individual needs.
Nothing compares to the classic look and elegance of hardwood floors. They connote a kind of coziness that other flooring materials can't match. Therefore, try hardwood floors if you want to add style to your cottage.
Unlike ordinary floors, hardwood floors have an extended longevity. Typically, they can last up to 60 years. However, you'll need to refinish them every ten years. Of course, this will depend on the type of traffic your cottage receives.
Plus, hardwood floors offer a neutral background that goes with almost every decoration style, unlike carpet and tiles, which have to complete the room's color scheme. Also, you can stain your hardwood floors to a color that fits your needs. The biggest con of installing hardwood flooring is the cost.
The average cost of installing hardwood floors is between $6 and $12 per square foot. Materials range from $3 to $7 per square foot. Labor costs are about $3 to $5 per square foot. But while the initial investment is significant, the return on investment is high.
5. Restoring Your Masonry
If your cottage has stone or brick elements, it's crucial to maintain their integrity. Therefore, when revamping your cottage, you want to make these elements more sturdy and durable. This involves various activities.
For instance, you may want to repoint your mortar. This involves removing the deteriorated mortar from the joint and replacing it with a new, sound mortar. This project may include the use of plunge reciprocating saws, masonry saws, and hammers and chisels.
You may also need to repair or replace stones and bricks if they are damaged. This helps maintain your cottage's structural integrity. Also, consider cleaning and sealing as part of your masonry restoration service.
The benefits of masonry restoration include removing stains, waterproofing, and enhancing curb appeal. Waterproofing and sealing masonry helps prevent future damage, extending the life of your masonry. Also, cleaning and restoration help remove stains from dirt, weather, and other factors.
So, how much do you pay for masonry restoration? Home Advisor estimates the cost of brick repair at $1,626. According to the source, a mason typically charges around $20 to $40 per square foot. However, the actual cost varies based on the size of the project, among other factors.
6. Costs of Inspecting and Repairing Your Heating and AC
Your heating and cooling system helps improve air quality, home aesthetics, and overall health. However, you can only enjoy these benefits (and more) if your HVAC system is in good working condition. So, if you're thinking of restoring your cottage, you might want to consider a heating inspection.
Regular AC repairs can help improve energy efficiency, ensure safety, and extend your HVAC system's lifespan. If your system is at peak efficiency, it consumes less energy, lowering your utility bills. However, ensure you hire a licensed, experienced, and trustworthy technician to repair your AC.
A basic heating inspection will cost you approximately $300. An AC repair, on the other hand, costs between $100 to $1,200. But these are just average estimates. The actual cost will depend on your HVAC unit, its issue, and your HVAC contractor.
7. The Cost of Adding a Shed
Do you use wood in your cottage? If yes, you might need more space to store your firewood. Therefore, you'll need to build wood sheds to restore your cottage. Wood sheds are simply sheds for storing large quantities of wood. They protect your wood from moisture and weather.
Wood sheds are also ideal if you use your cottage as a workshop or for storage. They act as proper storage spaces for your wood, preventing damage. The sheds can also provide shelter for other outdoor equipment and act as an additional living or workspace.
It will cost you an average of $3,634 to build your wood shed. Most homeowners pay between $20 to $175 per square foot. These costs vary based on your building materials, style and design, and labor costs, among other things.
8. Cost of Removing Trees
Do you have many trees in your cottage? They do add charm to your property, right? However, they can sometimes pose risks, especially if not well-trimmed and maintained. Therefore, if you're restoring your cottage, consider hiring a tree removal company.
A tree removal service might include eliminating dead, drying, or hazardous trees. It might also include trimming trees to remove overgrown branches that could fall on your cottage roof. This can be a risky project that requires a high level of professionalism.
A skilled, experienced, and licensed tree removal company knows how to deal with trees the right way without causing any safety concerns. They have all the licenses and permits needed to complete the project. They also have the necessary equipment and machinery to prevent property damage and personal injuries.
You'll typically pay between $341 to $1,523 for a tree removal service. The average cost of cutting down a tree is $657. However, the actual price will vary based on the size of the tree(s), the type of tree removal service needed, and the company you hire.
Why Should You Restore Your Cottage
After mentioning the costs of restoring your cottage, you might want to cancel the project because you think the cost is too high. However, you have no reason to back off right now. These are just cost estimates. The cost of restoring your cottage will significantly depend on what you want and what you can afford. So, here's why you should upgrade your cottage.
Enhance Aesthetics
Repairing or restoring your cottage breathes new life into your property. Projects like window replacements, wooden floor installations, and masonry restoration help restore or transform your cottage's appearance. This helps preserve its charm and character.
Safety and Structural Integrity
Structural issues in your cottage can pose significant risks, which could lead to property damage and loss of lives. Regular maintenance and repairs ensure the safety and structural integrity of your cottage. Projects like roof replacements, tree removal, and masonry restoration can prevent potential hazards.
Improved Efficiency
If you notice skyrocketing energy bills in your home, you might want to upgrade to energy-efficient appliances and upgrades. For instance, newer HVAC units consume less energy than their older counterparts. Therefore, they'll help lower your utility bills.
Increased Property Value
If you're thinking of selling your cottage, a restoration might be ideal to improve your property's value. A well-maintained cottage will likely sell high in the market. Many buyers are attracted to upgrades like energy-efficient windows and wood sheds. However, you can also focus on creating a custom home that will stand out in your neighborhood.
Are you ready to restore your cottage? Ensure you hire the right professionals to complete the improvements. We hope you know the projects and the associated costs to complete your cottage restoration. If you still have questions about the costs of restoring your cottage, contact us right away.