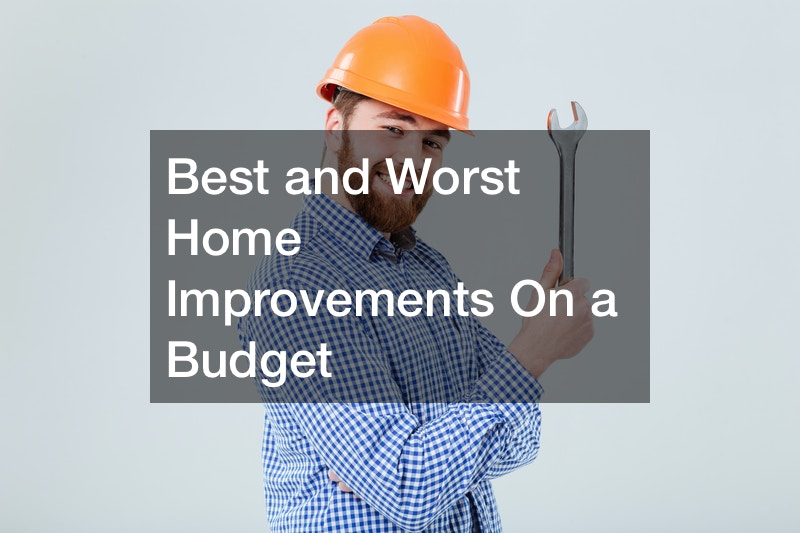 You need the best home improvements on a budget. It is the only way to enhance the value of your property without draining your finances. Yet, getting the ultimate satisfaction will depend on how careful you are during the project. Various tips go into finding the best home improvements on a budget. They will often include the following.
Best Home Improvements
A Touch of Fresh Paint
Fresh paint is one of the best home improvements on a budget. This move helps refresh your room at no more than $150. It is an excellent choice for a house with drab or washed-out walls. A fresh layer of paint will help seal out moisture, minimizing weight that could affect your building's structural integrity.
You'll need to paint the interior and the exterior parts of the house. Adding a fresh layer of paint to the exterior will help enhance the curb appeal. This paint will protect the structure from various elements, including mold, grime, dirt, and dust. You'll also be confident of an increase in the value of your property. This comes in handy whenever you want to sell the house.
Always prioritize quality paint. This premium-quality paint will repel dust, dirt, and allergens, allowing you to clean it effortlessly. At the same time, the chosen paint color should reflect your preferences. Brighter colors will make you feel more energized and even royal.
Various signs show that you need to repaint your house. For example, extensive wear and tear could make your house look ugly, thanks to significant peeling, cracking, and bubbling. This aspect will also allow moisture to penetrate the property, causing water damage in the long run. Other instances to consider a repaint would be when the paint fades, there is cracked caulk, and when selling the house.
Focus on Your Bathroom
The bathroom is an integral room in your house, allowing you to take care of yourself in privacy. It serves a vital hygienic function, determining your health and allowing you to relax. Therefore, upgrading and taking care of this room is an important facet. Various methods go into realizing this goal.
Depending on how tight your budget is, you can choose to upgrade, remodel, or renovate your bathroom. The idea is to give it a fresher look, enhancing the value of your property. That means you could first compare different options before settling on one.
Bathroom countertop installation is among the best home improvements on a budget. Replacing your current countertop will refine your room's appearance, adjusting it to suit your preferences and taste. The best bathroom countertops to install would be granite, quartz, and marble. You could also opt for soapstone and porcelain, thanks to their durability and non-slip structure.
Bathtub replacement is yet another incredible home improvement option. Ensure that you replace this device if you are uncomfortable with it or want a change. Opting for a more modern or contemporary design will enhance the room's elegance. On the other hand, reglazing or refinishing your bathtub will be a more affordable option.
Updating your decor is yet another choice among the best home improvements on a budget. Also, feel free to hang new fixtures on the wall, including paintings and crown moldings. They will help add a touch of elegance.
A Kitchen Upgrade?
Remodeling your kitchen is a move you cannot overlook. Hardwood floors improve functionality, eliminate inconvenience, and meet your preferences and family needs. In addition, you'll have complete control over the space and kitchen layout. An increase in storage options will also suffice in the long run.
Layered lighting is a priority among most homeowners. With an incredible professional by your side, lighting installation will be a lot easier. This lighting will help increase illumination, ensuring that the room is well-lit and allowing for better meal preparation. Remember, the best lighting for your kitchen is a warm white or yellowish-white hue.
You'll also need to increase storage options in the kitchen. A single open shelf would be a perfect storage addition. This shelf provides you with more space and airiness. At the same time, you could consider installing kitchen cabinets, preferably using natural elements. Wood would be ideal, thanks to the rich aesthetic quality offered. You could also opt for marble or granite.
Brave color contrasts will also be worth considering. These color contrasts ensure that your kitchen looks airy, elegant, and with bespoke detailing.
Improve Your Outdoor Living Space
The outer part of your house, including swimming pool remodeling, is also essential. Focusing on giving it a fresher and more contemporary look will help improve your curb value. Installing a new pergola is one of the best home improvements on a budget. Its design provides you with excellent shade, protecting you from the harsh direct sunlight. You could also use this space as a personal outdoor bar or kitchen.
You could upgrade your deck with a fresh splash of paint. Preferably, start with the deck or patio. Brighter colors have proven to be the most reliable and appealing. Most experts would suggest white or natural wood, depending on personal preferences. At the same time, please focus on the furniture in this section, ensuring that it pops.
Further, take the time to repaint your external door. A fresh-looking door will often improve the curb appeal. It will also protect you from various elements, including mold and moisture. However, if it is too old or damaged, it would help if you considered a door replacement.
Adding a few plants will make your home more lively. It would help if you chose natural but bright colors, including red and green. In addition, paint various house colors that match your preferred plants. For instance, suppose you have red flowers on the property. In this case, you could consider painting your window frames red. This move helps highlight your choice better.
Better outdoor lighting will also help improve the value of your property. You could add either smart security lights or solar lights along the driveway. The latter is among the best home improvements on a budget. Besides, it is much more affordable to maintain in the long run.
Upgrade Your Floor
The flooring often affects the design of your home. It offers a specific impression of your space subconsciously. That means your space could feel warmer, more relaxed, bigger, or smaller, depending on the installed flooring. If you are looking for a cozier or luxe feeling, it will help if you consider a more contemporary floor.
Ensure that you install a good floor. This floor will set the tone for everything in the house, meaning you must select a type and color that suits your preferences. At the same time, some floors will work better than others. For example, some floors are better at resisting dust and dander buildup, while others will protect you from common allergens.
Fumed wood flooring is one of the best options you could consider. It comes with excellent color and grain. Additionally, its white paint and wood combination makes it suitable for the kitchen. You'll also love bleached or blanched wood flooring, as they are among the best home improvements on a budget. This choice is suitable for the living room.
Further, check your carpet. Always replace worn carpet, giving your room a fresher look. You could also opt for hardwood flooring if you no longer want carpets. Hardwood flooring is much easier to install yourself, making it a perfect choice for anyone on a budget.
Need a New Roof?
Residential roofing plays an integral role in your house: providing safety, improving curb appeal, and regulating room temperature. Having a structurally sound roof is the surest way to enjoy comfort in the house. Such a roof guarantees you unrivaled weather protection, enhanced energy efficiency, improved curb appeal, and minimal health concerns.
Depending on the extent of damage, you can either repair or replace your roof. Usually, you'll only repair the roof if the damage is minor. Here are the instances when you'll need to repair it: missing shingles, minor leaks around the chimney and pipe boot, nail pops, fascia damage, and minor punctures.
On the other hand, roof replacement could be costlier yet necessary in some cases. It is recommended that you consider this replacement every 20 years. In addition, you will have to go for a replacement in case of a storm or weather-related damage. Premature asphalt fails will also be another sign.
Today, most people prefer darker shades on their roofs: bronze, black, gray, and silver. You could attribute this to the plenty of contrast the hues provide. Remember, contrasting colors help enhance the aesthetics of your home. You could also go for green roofs if you are an environmental enthusiast.
Go Green
Have you noticed the sudden increase in the number of people using solar power? You could attribute this to the increased utility bills people get today. An increase in the cost of electricity has forced people to opt for much more affordable options, including solar energy. Besides, experts project an increase in the number of people taking up this form of energy.
Solar power is an excellent choice for homeowners who desire energy efficiency. Its ability to enhance energy independence assures you of a much better ROI. Besides improving the value of your property, this option will significantly reduce the carbon footprint in your environment.
Professional solar power installation should be a priority. Relying on their expertise assures you of increased value. These professionals will often install the panels correctly, maximizing energy efficiency. Thanks to their enhanced efficiency and affordability, it would also be better if you chose PV panels.
At the same time, ensure that you keep the solar panels clean. Clean panels will often absorb more energy, reducing your utility bills further. You might also need to trim the trees around your roof, allowing the panels to get direct sunlight. Above all, get your solar panels from a reputable vendor or brand. It will help avoid various issues in the long run.
Insulation
Excellent insulation will help regulate your room's temperature. With proper insulation, you are sure of enhanced protection against the cold and excessive heat. Its ability to control noise pollution will ensure that your room is comfortable and noise-free. What's more, it boosts energy efficiency, meaning that you'll no longer need to rely on your HVAC system all the time.
Various insulation methods suffice when upgrading your home. The choice will depend on how tight your budget is. There are four main choices: fiberglass, spray foam, mineral wool, and cellulose. Spray foam is an excellent choice for attics and new walls. Unfortunately, it does not count among the best home improvements on a budget. Instead, you could opt for fiberglass insulation, which is much cheaper.
You'll also need to pay attention to your windows. Here, you can hang insulated curtains or apply foam tape. The idea is to ensure that no heat leaves or enters the room, assuring you of a more regulated internal temperature. Double-glazed windows will also be a perfect choice. This double glaze will help reduce noise and control room temperature. Its affordability implies being among the best home improvements on a budget.
Remodel the Basement
You could make your basement more useful by renovating it. Whether you want to use it as a laundry room, theater, or pet grooming station, this space can offer you extensive utility. First, ensure that the basement has an excellent drainage system and ventilation. This move will protect you from stuffiness and poor air circulation.
Next, add a subfloor. This will create a more comfortable and dry living space. Preferably, focus on a flooring option that has a better R-value. An excellent R-value will help insulate the space. Lastly, as you personalize your space, ensure that you focus on colors, lighting options, and decor that brightens the basement.
Worst Home Improvements on a Budget
Various home improvements can be termed as the worst. Yet, two stand out: master suite addition and major kitchen upgrade.
Master Suite Addition
A master suite enhances the luxury and comfort of your bedroom. While you can do it on a relatively small budget, this option comes with the worst payoff. Its return on investment is significantly low, meaning that you do not get value for your money.
Kitchen Upgrade
A mid-range kitchen upgrade ensures that your kitchen looks more appealing, modern, and with excellent appliances. Yet, this move will hardly improve the value of your property in the long run.
The best home improvements on a budget will help you achieve a more comfortable life and a high-value home. Vinyl fence is a top priority when upgrading your home. The options above are worth considering.